Overview of Our Nurse Assistant Training Program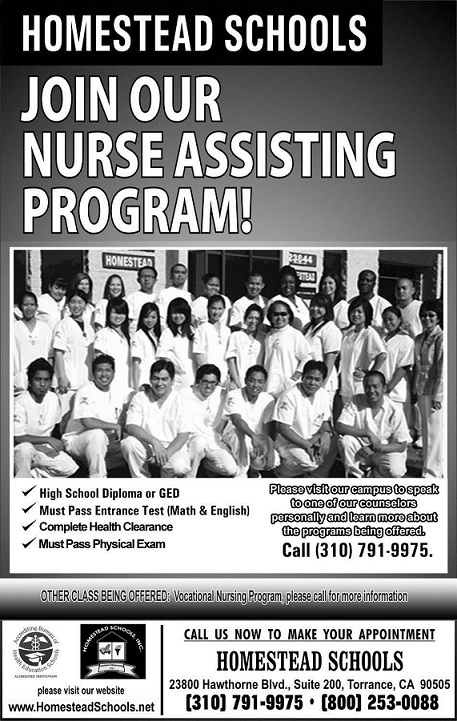 Nurse Assistant Training Program
Program Description:
This course is designed to provide the student with the skills necessary to administer care for patients or residents in a hospital, extended care facility or in-home. The course will consist of both classroom and clinical training in a local extended care facility. The curriculum will include, but not limited to, title XXII and OBRA regulations, vital signs, patient/resident bill of rights, fire/safety, universal standard precautions, the nursing process approach to health care, fluid intake and output procedures, assisting patients with hygiene, body mechanics, nutrition, elimination and specimen, assisting patients with activity of daily living, basic anatomy and physiology, medical terminology, abbreviations and communication. Upon successful completion of the course, the student will be eligible to take the state test to become a Certified Nurse Assistant.
NA Pre-admission Requirements:
Minimum of 17 years of age
Must posses Social Security or Tax I.D. number
Can speak, read, and understand the English language
Must arrange an appointment with the Admission Coordinator who will confirm that eligibility requirements have been met and will issue a permit to take the entrance test.
Obtain background check clearance
Picture for student ID badge
Proof of legal residence
NA Pre-clinical Requirements
Physical Exam
Annual PPD
American Heart Association Healthcare Provider Card (BLS/CPR)
NSO Insurance
Program Objectives:
Upon successful completion of the course, the student will be able to:
Understand the role and responsibility of the Nursing Assistant and perform as a health team member.
Recognize the importance of verbal and non-verbal communication and demonstrate effective communication skills.
Understand the resident's rights and the purpose and use of the patient plan of care.
Observe and reports changes in condition, abnormal signs, symptoms, and care provided to a licensed nurse.
Practice the principles and techniques of safety and infection control.
Accurately assess and chart vital signs
Demonstrate proper personal care procedures, admission and discharge procedures, exercise and activity, and elimination procedures according to the principles.
Apply the knowledge on nutritional requirements and techniques in measuring and recording intake and output, feeding the patient, preparing and serving meal.
Understand clients with special needs.
State the CNA's role in restorative care.
Care for the resident through the dying process and care for the body after death.
Work with and under the direction of the LVN/RN in a structured health-care setting.
Be eligible to take the state test to become a Certified Nurse Assistant.
Comments
Dear Mr. Rosales, (Job Placement Coordinator)
Thank you for your letter. I really appreciated it and maybe I can use it in the future. For now I've started working with Seacrest Convalescent Hospital and Los Palos Convalescent Hospital as a partime CNA while waiting for my assignment at Harbor Care.
I thank you and the Homestead for helping me get a job. More power to all of you and the Homestead Schools, Inc.
Respectfully yours,
Teresita Lorenzo (NA Student)
Dearest Mr. Vijay Fadia, (President)
First of all allow me to thank you for this "full" course that your good office have given us, it is such a pleasure to be able to accomplish something without the pressure of financial toll, and that is because of your good heart. 
Rest assured that this tool you gave us will be in good use for the betterment of the 14's care plus to upgrade the standard of the
Nursing Assistants category in the field of nursing.
May the Lord God in heaven bless you more so that you may extend your hand more, Mr. Fadia please know that I've been praying for you, you're family, and all the people that make this course possible and available. 
Again thank you so very much for this opportunity. 
With prayers!!! 
Sincerely Yours, 


R.C.N.
I would like to thank first of all Mr. Fadia for giving me an opportunity to attend this wonderful school & for making it affordable for everyone. Also, big, huge thanks and wonderful comments to miss Rose, Mr. Sadang, and Miss Cohen for giving me wonderful support, for encouraging me to go forward. Thanks to these AMAZING teachers. This past week, I passed my state exam!! First time!! Can't thank you all enough.
Big Thanks, D.G. (Batch 29)
P.S. Hopefully see you soon, LVN!!