Apply for Our Vocational Nursing Program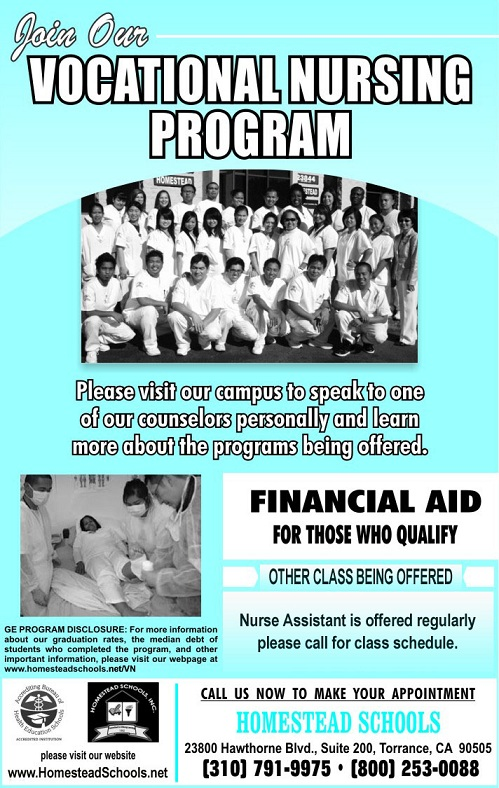 Licensed Vocational Nurse
Program Description
The school's Vocational Nursing Program is designed to impart the basic knowledge and demonstrative ability necessary for entry level of employment as a vocational nurse. This program prepares individuals to assist in providing general nursing care under the direction of a registered nurse, physician, or dentist. It includes instruction in taking patient vital signs, applying sterile dressings, patient health education, and assistance with examinations and treatment.
VN Pre-admission Requirements:
Age 17 1/2 years or older.
Submit completed admission application packet with School Performance Fact Sheet
Copy of high school diploma or GED from an accredited school. If foreign graduate, credentials must be evaluated to prove US Education equivalency
Speak, read, and comprehend the English language. Communicate effectively during the interview process
Pass the Preadmission Test with a score of 76% or higher
Interview
Obtain background check clearance
Picture for student ID badge
Proof of legal residence
Social Security Number
Complete Credit Granting Form if applying for transfer of credits from other institutions. Submit official transcript of records from schools attended. Provide a copy of US education equivalency if applicable
Complete financial application
Complete Enrollment Agreement
VN Pre-clinical Requirements
Physical Exam
Annual PPD
Hepatitis B Series
MMR 1 and 2/Rubeola AB, Rubella AB, Varicella 1 & 2/Varicella AB
American Heart Association Healthcare Provider Card (BLS/CPR)
Fire Safety Card
Student Nursing Malpractice/NSO Insurance
Employment Characteristics
Licensed vocational nurses hold about 753,600 jobs. 28% of LVNs work in nursing homes, 25% work in hospitals, and 12% in physicians' offices and clinics. Others work for home healthcare services, residential-care facilities, schools, temporary- help agencies, or government agencies.(Source:http://www.bls.gov/oco/ocos102.htm#emply)
Growth Rate
Employment of LVNs is expected to grow by 21 percent between 2008 and 2018 in response to long-term care needs and the general growth of health care. Nursing homes will offer the most new jobs for LVNs as the number of aged and disabled persons rises. Employment of LVNs this decade is expected to grow 36% or more in home healthcare services. This is in response to a growing number of older persons with functional disabilities, consumer preference for home care, and technological advances, which make it possible to offer complex treatments at home.(Source: http://www.bls.gov/oco/ocos102.htm#outlook)
Earnings Potential
The median salary for a typical certified nursing assistant (CNA) in Los Angeles is $27,685 whereas a typical licensed vocational nurse (LVN) were $39,030 in May 2008. The middle 50 percent earned between $33,360 and $46,710. The lowest 10 percent earned less than $28,260, and the highest 10 percent earned more than $53,580. Median annual wages in the industries employing the largest numbers of licensed vocational nurses in May 2008 were:
Employment services $44,690
Nursing care facilities 40,580
Home health care services 39,510
General medical and surgical hospitals 38,080
Offices of physicians 35,020 (Source: http://www.bls.gov/oco/ocos102.htm#earnings)
Approvals
Homestead Schools, Inc. has been approved to operate a vocational nursing program by the Bureau for Private Postsecondary Education and the Board of Vocational Nursing and Psychiatric Technicians. Homestead Schools is an Accredited Institution by the Accrediting Bureau of Health Education Schools. To see Homestead Schools accreditation status please click here , insert id No: I-034 then click submit.
Accrediting Bureau of Health Education Schools
7777 Leesburg Pike, Suite 314N
Falls Church, VA 22043
Phone (703) 917-9503
Fax (703) 917-4109
Email: info@abhes.org
Bureau for Private Postsecondary Education
2535 Capitol Oaks Drive, Suite 400
Sacramento California, 95833
(916) 431-6959
Board of Vocational Nursing and Psychiatric Technicians
2535 Capitol Oaks Drive, Suite 205
Sacramento, CA 95833-2945
(916) 263-7800
Racially Nondiscriminatory Policy
Homestead Schools, Inc. admits students of any race, color, national and ethnic origin to all the rights, privileges, programs, and activities generally accorded or made available to students at the school. It does not discriminate on the basis of race, color, national and ethnic origin in administration of its educational policies, admissions policies, scholarship and loan programs, and athletic and other school-administered programs.
Comments
"Everything at Homestead is good so far. I see that the teachers really care about their students and they provide all the help we need. I really enjoy being here! Every day I realize that I made the right choice on choosing the nursing field and this school. I have recommended the program and school to the people I know. Many people at work are interested. George has been very helpful with every question I had. He took the time to explain my financial aid. I really appreciate that."
"The entire Homestead staff does an excellent job in working together for the stability of the school. My experiences here at Homestead have so far been very educational and also enjoyable with excellent clinical instructors and the knowledge we were taught during theory. The program in my opinion is one of the best in the Southern California area and is one I would suggest to those I know who are interested in taking nursing. The tutoring program is very helpful and easily accessible to all of us."
"I have had a great experience with the school. Two Thumbs up! The school has delivered a fantastic program!"
"Homestead is a very educating school. It's strict but it guarantees you get your money's worth. My experience has been great and memorable. The school has delivered its promise. I don't think anything should be changed. Everything is good the way it is."
"When I first enrolled into Homestead Schools I had a specific goal to be the best in class. The rationale behind this is to psychologically set myself up for success because failure is simply not an option for me. I take my career and my future very seriously and is evident by my number 1 rank for term 1. My drive and ambition will guarantee my graduation in my eyes. The scholarship is my trophy, it is a welcome reminder of the hard work and dedication that I have invested in my future."
-Eduardo Garcia, a VN student
"The school has been awesome, love the instructors! Ms. Sadang=Great! Ms. Rivas=Great! Ms. Tomie=Awesome! Dr. Liz=Well informed with lots of information, fantastic! Ms. Doris=Terrific!"
"The school provided all information needed to be successful. If you didn't apply yourself and work hard it would not matter what the school promised. You would not pass. All the instructors are great to work with and I believe all wanted us to succeed."
"My Experience was great! There were some bumps during the course of the program but it was handled well."
"My experience has been excellent. The school is very challenging, but it has been a great experience so far. I have recommended Homestead to many people."
"I have all ready referred the school to three of my girlfriends. My experience has been great. They've delivered on their promises. I wouldn't change a thing, they all do a great job!"
"My experience so far is good! Mrs. Sadang really worked my butt off (which is good) and all the teachers were great and helpful."
"Everything in financial aid was processed and done very well. The tutoring program really helped me a lot especially when Janet came in. She's a very good tutor!"
"Ms. Doris is very helpful and encourages us to help us to do better. I'd definitely recommend the program to others."
"I have received the full amount through the financial aid and I am very satisfied with the results."
"I would recommend the school to others. The teachers have been very nice to work with. "
"My experience here at Homestead has been good so far. I would recommend this school to others. The tutoring program has helped me out a lot."
"Dr. Liz taught me so much and really helped me understand the subjects. I wish we could have her for the rest of the school year."
"The board of nursing sent me some forms in the mail. I received it yesterday. You know, that is good news for me. I will have a better chance after I finish the program. It is indeed a divine arrangement or intervention by God to have people like you and Mr. Ignacio. I will continue to put in time to study ahead of the class like I am doing right now. Mrs. Merlyn is a good teacher. Thank you for the opportunity. I will not let you down. You will continue to hear and see my progress in batch 7. Please extend my gratitude to Mr. Ignacio, Mrs. Merlin, my teacher, and the rest of the teachers both in the classroom and in the clinical. Thank you for giving me the chance of a lifetime. God bless you and all the staff who are helping to make things happen. Please continue to keep me in your prayers."
-B.A., a VN student
"The tutoring program has helped me remember because she also gives examples."
"I would recommend this program because the staff and teachers are very nice and they know how to run the school. The school has delivered it's promise, my experience has been good. The only bad thing is there are no vending machines."
"From other school to Homestead, Homestead has helped make this whole process less stressful. The learning experience from Homestead has helped me become a better student and a better person."
-F.G., a VN student
"Homestead has helped me to better manage my time and deal with stress. I learned how to save money and communicate better with others and with patients. I learned how to bond with other students and with staff."
-F.Y., a VN student
"I really enjoyed my time at homestead. The students, teachers, and staff are great!"
-T.G., a VN student
"My experience was ecstatic! The staff was very cooperative and flexible with the students. I loved how everyone worked together as a team to enforce a guaranteed passing of all the students."
-A.M., a VN student
"I appreciate Mrs. Sadang, Ms. Nishime, and Ms. Reyes patience with our batch. They really take the time to instill their knowledge on us. Ms. Nishime even made us NCLEX type questions and medical terminology type games."
"Ms. Milarose is a very good teacher, we all love her! Ms. Nishime is a good teacher as well, she provides games. Ms. Sadang is strict but she's good because we are behaved and she gives us consideration."
"The program is challenging and I feel confident I will do well on the NCLEX-PN. I would recommend this program to people serious about devoting most of their time to study."
"Homestead School has embraced us as transfer students with open arms. Transferring to homestead was one of the greatest and best decisions that I have made in my life. The faculty and staff, namely Ms. Sylvia, Mrs. Nicolas, Jill and Star have helped me in all aspects and supported me through achieving my goals. Thank you to everyone, to my Homestead family!"
-A.H., a VN student
"The past year has been a rough learning experience that has taught me not only values that will benefit me in the nursing field but also in life. The staff has been understanding of myself & the rest of the students, making this experience less stressful."
-M.B., a VN student
"A nursing career allows me the opportunity and privilege to serve people in their time of need as well it is a very rewarding personal endeavor. It will also help with my financial needs."
-K.L.O, a VN student
"This scholarship will be meaningful to me because it will help me pay for education. It will also allow me to further my education. This scholarship keeps me inspired with a positive mindset and helps me realize you are rewarded for hardwork. "
-A.M.J., a VN student
I studied for about 3-4 weeks, reading the Saunders book that Homestead School provided me. I also did at least 100-200 questions/day from different NCLEX style question CD/Books. I think ATI really helps me to prepare for my board, and just be positive and look forward on getting your license.
-C.M, a VN student
" Dear Vijay, I would like to express my sincere thanks to you and your staff for the hard work and dedication you have put into helping me achieve my LVN license. Without assistance from you, and the school staff, I would not have recieved the necessary training to successfully pass the state exam on my first attempt. Because of your help, I am now on my way to a rewarding career.
Thank you for all the encouragement you have given me during the school years. I don't know what I would have done without your endless support and cannot thank you enough.
The professionalism, support and commitment in this program will most certainly reflect in the quality of your students their hard work as LVN's. Much thanks."
-P.M, a VN student